(1) It has strong adaptability and wide application. Due to the use of jacket heating and high vacuum exhaust, the rake vacuum dryer is suitable for almost all materials with different properties and states, especially for the drying of explosive, easily oxidized and paste materials.

(2) The product is of good quality. During the drying process, the rake teeth continuously rotate forward and backward, and the dried materials are stirred evenly. The overheat of the materials is avoided, and the moisture is easy to escape. The shell gets the product with low temperature. Due to the fine particle size of the product, it can be packed without crushing.

(3) The steam consumption is small. Because the vacuum rake dryer uses more steam to pass into the jacket and uses latent heat to heat the material, the steam consumption per kilogram of finished product is small, generally 1.3-1.8 kg steam.

(4) According to the different characteristics and requirements of drying materials, the sealing system of dryer can choose two kinds of packing seal and mechanical seal. The special design ensures the sealing performance and service life.

(5) Easy to operate vacuum rake dryer, easy to operate, less staff, low labor intensity. The environmental hygiene was improved because of the decrease of material loss.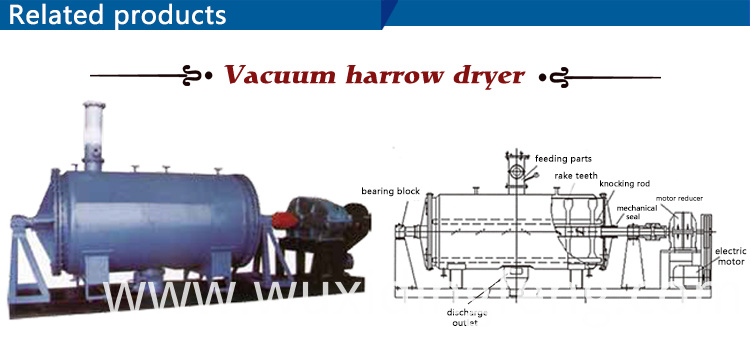 Industrial rotary vacuum rake dryer factory price
model

Effective volume




(L)

Working volume




(L)

Heating area




(M²)

Rotation speed




(rpm)

Transmission power




(KW)

PZG-100

100

50

1

10

1.5

PZG-200

200

100

1.5

10

1.5

PZG-500

500

250

3

10

3

PZG-1000

1000

500

5

10

7.5

PZG-2000

2000

1000

8

8

11

PZG-3000

3000

1500

10

8

15

PZG-4000

4000

2000

12

8

15

PZG-6000

6000

3000

15

8

22

PZG-8000

8000

4000

19

8

30

PZG-10000

10000

5000

22

8

37